Setting up Retain Reactivations
Retain can help win back your churned customers with reactivations.
Target already churned customers with variable discounts to have them reactivate their subscriptions in 1-click.
Email us:
How much of a discount you want to offer (i.e., 50%) — happy to help test out different offerings 
How long you want to offer this discount for (i.e., 3 months) — happy to help test out different offerings 
Do you want us to reference a specific product name? (i.e., Retain)
What kind of product update do you want to share with your customers? (i.e., "We are now able to combat both voluntary and delinquent churn.") — It is important to reiterate and reinforce your value proposition to churned customers
Contact support@profitwell.zendesk.com with this information if you're not already in touch with one of our team members.
That's it! We'll then be able to provide your customers with seamless 1-click UX to reactivate their subscription. 
Sample emails:
SUBJECT: Discount available on your {{company name}} account

Hey {{Name}} -

We haven't seen you in a while but reaching out to share some updates on {Product Name}. {Custom text on a recent product update}.

We're currently running a promotion where you can get a 50% discount on your subscription for 3 months if you sign back up today(x$/month). Just click here and we'll take care of the rest.

If you have any questions, just reply here.

{{Signature}}
SUBJECT: Discount available on your {{company name}} account

Hey {{Name}} - no pressure but just wanted to bump this.

We're currently offering a 50% discount on your subscription for three months if you sign back up for {{Product Name}}.

Just click here and we'll take care of the rest.

{{Signature}}
Confirmation modal: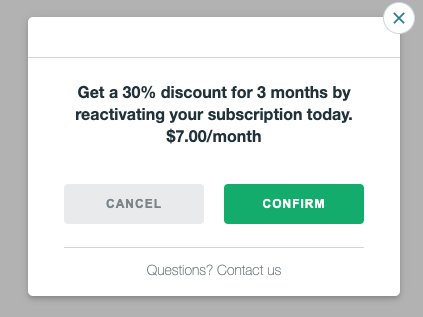 ---
---